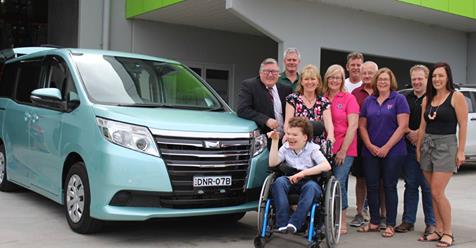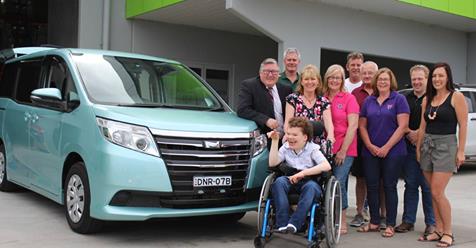 Laine & Denise G, presented with their new modified car (Oct 2017)
Help us to support and improve a local child who could use a hand.
We use your generous donations to buy or supply items or services that are desperately needed.  Items or services such as wheelchairs, steps, walkers, home modifications even cars.
For some kids, the very things we take for granted, like going to school, going for a comfortable drive, or even sitting in the backyard to watch the birds are challenges or impossibilities, we aim to make those possible, easier or at least more enjoyable.
3 Easy Ways To Support Us
Donate Cash
Click the button below where you can directly donate to us, don't be shy.   You can donate once off, or like a lot of our family or non-business sponsors, you can make monthly donations.   If you would like a Direct Deposit form please contact us.
If you wish to super kind and really make give us a bigger boost, or are business which wants to make a one-off donation, instead of a event sponsorship, please contact us.
Sponsor Or Attend Our Events
Another great way to support us,  is to attend one of our annual events.  Even better,  become one of our generous sponsors. Each year we have at least 4 major events;
Race Day/Night at Club Menangle
Christmas in July
Golf Day at Camden Golf Club
Melbourne Cup Lunch
For all events, you can become a  sponsor (book one or more tables).  And of course you name goes up on our Facebook and website for extra exposure and community ties.
Buy or Donate in a Silent Auction
From time to time we have some ripper bits n pieces up for grabs in our silent auctions.
Do some great work and offer a motza for a pool-room treasure.  Every little bit counts, so don't be shy with your bid.
Oh, and if you have an item you would like to donate for an auction, please contact us.